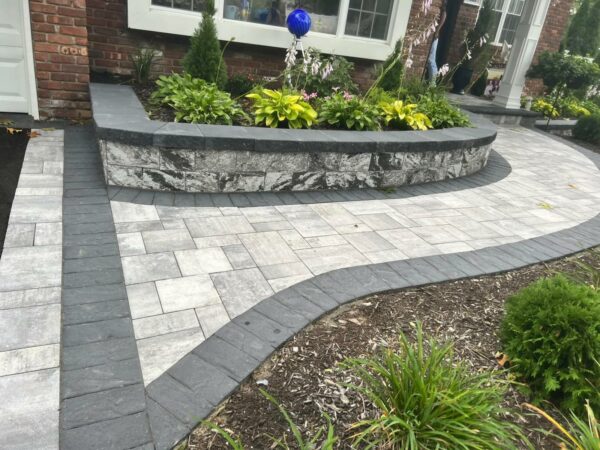 Interlocking pavers are pre-cast pieces of concrete or brick that fit together like a jigsaw puzzle, creating an interconnected hard-surface pavement. Often shaped with ridges on the sides, these pavers are designed to lock together, providing a durable, flexible, and easy-to-maintain surface.
Interlocking pavers can withstand heavy traffic and resist weather stresses, making them ideal for driveways, patios, and walkways. Available in various shapes, sizes, and colors, these pavers can be arranged in various patterns, allowing for customized and unique landscape designs.
Installation of Interlocking Pavers
The installation process of interlocking pavers is relatively straightforward but requires precision and an understanding of landscape design and engineering. Here are the general steps involved in the process:
Site Assessment and Preparation: The first step is to assess the site, considering the soil type, drainage, and the purpose of the paved area. After this, the area is marked and excavated to allow room for a completely new base installation.
Base Preparation: A layer of compacted gravel or crushed stone is installed to create a stable base for the pavers. The thickness of this base will depend on the soil type and expected load on the pavers, but typically ranges from 6 to 8 inches.
Screeding involves spreading a layer of coarse sand on top of the base layer. The sand is screeded, or smoothed, to create an even surface for laying the pavers.
Laying the Pavers: The interlocking pavers are laid on the screeded sand, fitting them together tightly according to the chosen pattern. It's crucial that the pavers are installed flat and level, and adjustments are made by adding or removing sand underneath as needed.
Edge Restraint Installation: To prevent the pavers from shifting over time, an edge restraint is installed around the perimeter of the paved area. This can be made of various materials such as plastic, precast concrete, or metal.
Compaction and Joint Sand: The pavers are compacted using a plate compactor, which also helps to set them into the sand. Joint sand is then spread over the surface and swept into the gaps between the pavers. This sand is critical to the interlocking process, filling the joints and creating a tight bond between the pavers.
Sealing: The final step is optional but recommended for enhancing the color of the pavers and to help prevent staining. A sealer can be applied once the pavers are thoroughly cleaned and dried.
You can get a free estimate from our pavers by calling Fairpave Home Improvements or visit our interlock paving services for Long Island for more examples of our paver work and services.